Wedding Dance Lessons
Banbury
We want to make sure that your wedding first dance is memorable for all the right reasons! Wow your friends and family with your moves! Even if you think you've 2 left feet, we can guarantee to make you move with grace and style! Wedding dance lessons Banbury are all you need for a great first wedding dance.
No time left? Our first dance lessons teach you all you need for a fabulous wedding dance in just a couple of sessions.
Lessons are often held in couples' homes. A couple of strides in either direction is usually fine. Alternatively, you can come to our space in Banbury, Oxfordshire where we would offer a discount. There are various price packages to suit most budgets and ambitions! Most couples have 2 – 3 hours. Ideally aim to have your first lesson around 1 – 2 months before your wedding. This way there is enough time to practice but it is still fresh in your minds' for the big day. Don't worry if there is only a couple of weeks to go though – there is still time to fit in a session to avoid the 'wedding shuffle!'. As the lessons are one to one and tailored specifically to you and your song, we cover a lot! The sessions are intensive but you will have a lot of fun too!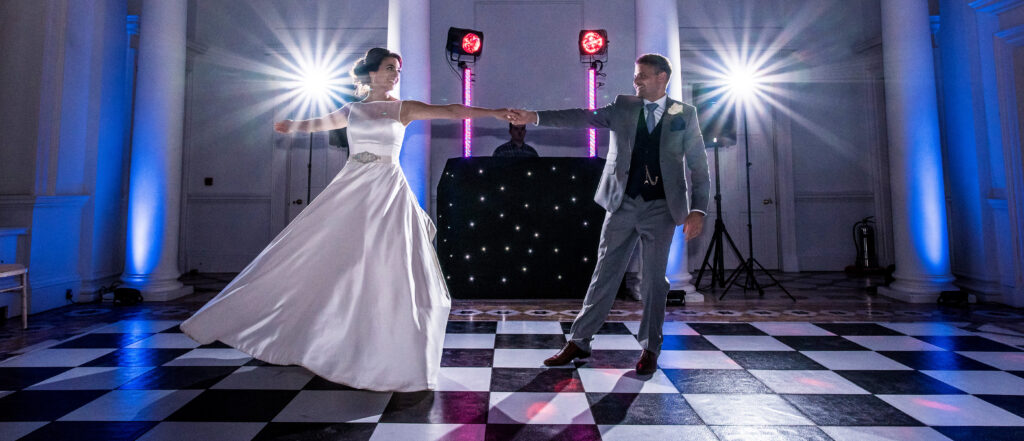 We work with your song choice, learning either a full routine or just a few steps to help you through. Usually couples learn a routine or sequence of steps. This helps on the big day by both knowing what is coming next and helping each other remember. In the process we do teach the man to lead and girl to follow, so you can keep dancing together in years to come!
Style-wise it is totally down to you and your song choice. Some couples want to learn a formal waltz, quickstep or jive, etc. Others have their perfect song but have no idea how to start moving to it. Other couples have a whole routine in mind to a collaboration of songs – sometimes even involving best men, bridesmaids and even parents! Whatever you have in mind we aim to make your lessons a really enjoyable part of your wedding preparation.
Sessions are flexible with days, evenings, and weekends available. They are a lot of fun and there is no pressure. I guarantee we will find something that both suits you and you are comfortable with. Plus you will really impress both your guests and yourselves at what you can achieve in such a short time!
Wedding Dance Lessons Banbury
Package 1:  1 hour Taster session: £70
This gives you a few steps to work with and an idea of whether First Dance lessons are for you.
Package 2: 2 hours session: £100
Many couples find that this is enough for a complete simple routine to their song. We mix with traditional styles suited to the song, plus a few fancy moves thrown in to make sure you wow your guests!
Package 3: 3 hours in 2 sessions £150
The 3 hours can be split into a 2 hour session plus refresher hour ( our most popular package) or 2 X 90-minute sessions if preferred. We are usually happy to play this by ear on the night of the lesson if you are not sure. This package is ideal if you feel you may want a little more practice than just one session.
Discounts are also available if you come to us!
Top up sessions of 1 hour are £50 per hour if a previous package is booked.
Why Choose Us?
While most dance schools can teach you how to dance, we specialise in teaching you your dance to your song for your wedding. Whilst we can and do include the 'technical stuff' such as teaching the man how to lead and lady to follow as well as the names of the steps; the emphasis for our wedding dance lessons is finding you steps that work for you and that you can perfect, and that you look good moving as a couple. We don't have to stick to one style – many song choices do not fit into any specific ballroom styles and so we mix and match styles and steps to make the perfect first dance routine that suits you. This is why we only need 1 or 2 sessions where most dancing schools have many more. You truly will be amazed by what you can do after just one lesson! Your first dance is our specialty!