Dance Lesson Gift Voucher
It's approaching Christmas time and some people are so tricky to buy for! How about something different this year with a Dance Lesson Voucher!?
Find out more about how it all works by checking out our page by clicking the voucher below!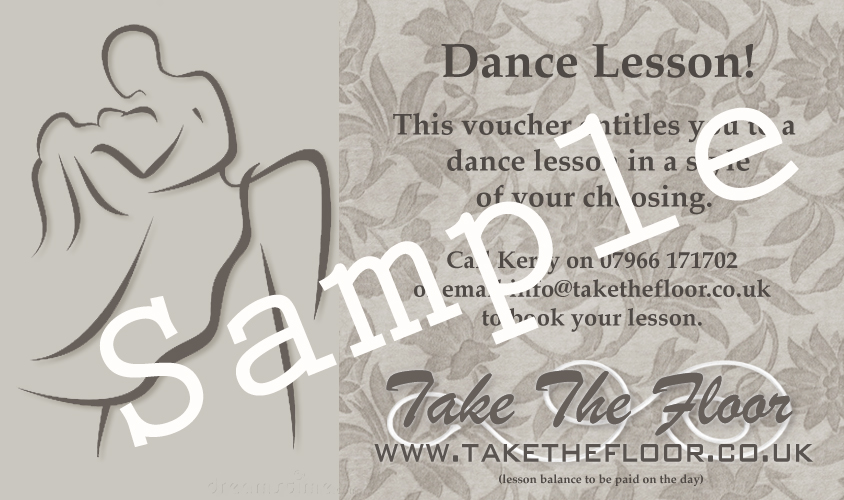 It's been a while since I posted! Mainly because it has been so busy with lots of wedding dances all year round lately, as well as more regular clients just dancing for the fun of it!
The other reason I don't post too much though is that many of my clients are quite private. Most couples want to keep their wedding dance a secret when they are learning, so at the time I am with them there is nothing to post about! It is lovely when I do hear from couples after the wedding, but a lot of the time once the honeymoon is over and reality of normal life resumes, contacting the dance teacher isn't high on the list! It is really nice when a couple does send me picture or video though and my aim is to post and share these more often as long as I have the couples' full permission of course! ( I also love receiving pictures and videos from couples not happy for them to be put online and I totally respect that and love seeing them anyway to see how they got on without posting).
Here is a lovely video I was sent recently from Anca and Michael – they did beautifully and I just adore her dress too!
So what are the most popular wedding songs this year!? Moondance was the 2013 big winner, but this year it is currently a 3 way tie between 1000 years by Christina Perri, Better Together by Jack Johnson, and Hey Ho by the Lumineers! What is / was your wedding song!?
I had great fun at a wedding fayre at Manor By The Lake in Cheltenham the other week!  I met lots of fab people – both brides and grooms as well as wedding professionals! I was there in both wedding dance and balloon twisting capacity and fun to have 2 hats on at the same time! I made a lot of balloon fascinators as well as balloon brides and it was fun to see everyone with them!
It was also really great to meet the very talented Tony Marriott of tonystoons.co.uk/. After making him an 'air guitar' he drew this fantastic caricature of me in balloon twisting action! It was all done in less that 5 minutes – so clever! Great fun too, and a really nice guy!
After lots of requests and orders over Christmas we are now offering Dance Vouchers! It makes a great anniversary or birthday present for a spouse, parents or friends, or even an early wedding present.
Vouchers can be for general dance lessons for the recipient to decide on style, or personalised for a specific dance style or occasion.
Prices start from £50 an hour for a lesson in your home or convenient location.
An example of a voucher is below, but for more details see our new Vouchers page or contact us at info@takethefloor.co.uk.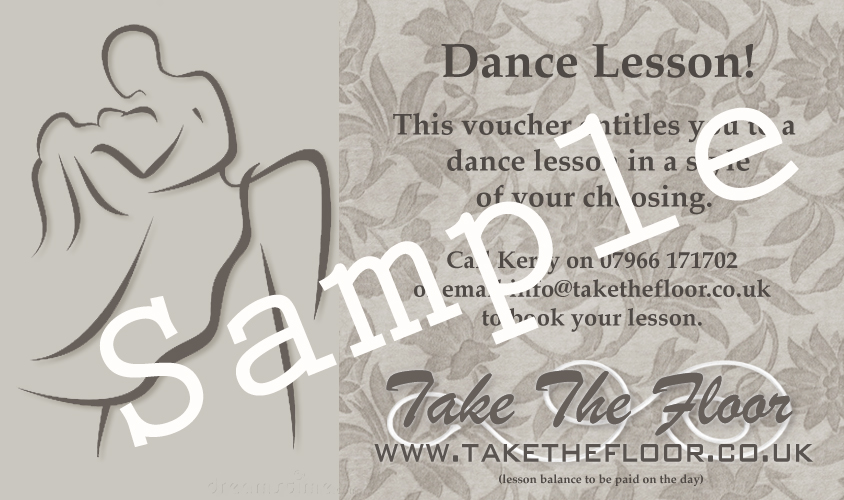 I was delighted to be asked a couple of weeks ago to coach Euan Blair and wife to be Suzanne Ashman in their first wedding dance. They did a lovely routine to 'Kiss Me' by Sixpence None The Richer and worked really hard. Suzanne had really natural grace and they both picked up the steps well. A really lovely couple and I wish them all the very best for a very happy marriage!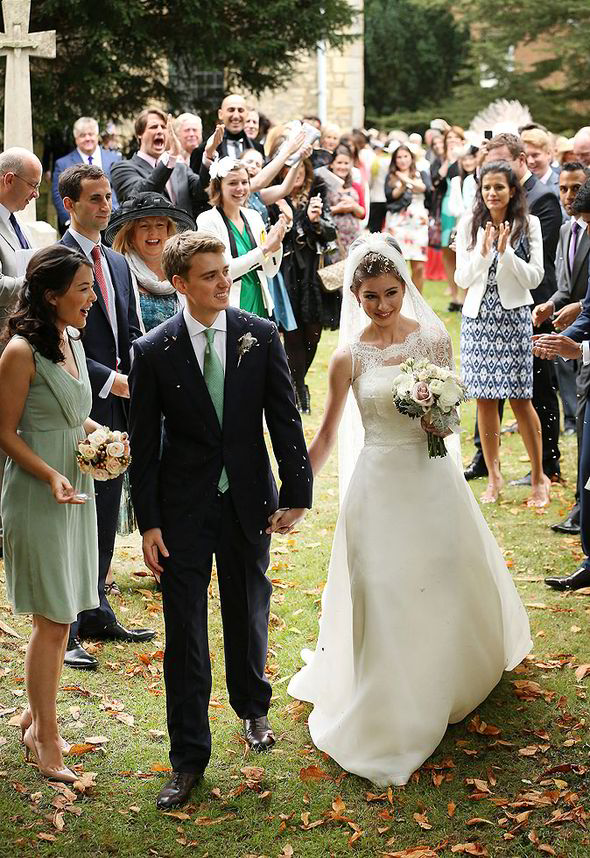 A lovely couple I worked with a couple of months ago have just sent me their awesome wedding shots and a link to their video so I thought I'd share them here. They did amazingly well! Ben had never danced before our 3 sessions – as you can see he is definitely a natural! Petra had a little experience from school but was amazingly quick at picking up anything new and was really up for a challenge. I was so proud of them both and as you can see they look stunning. A really lovely couple I wish all the very best to in their married life.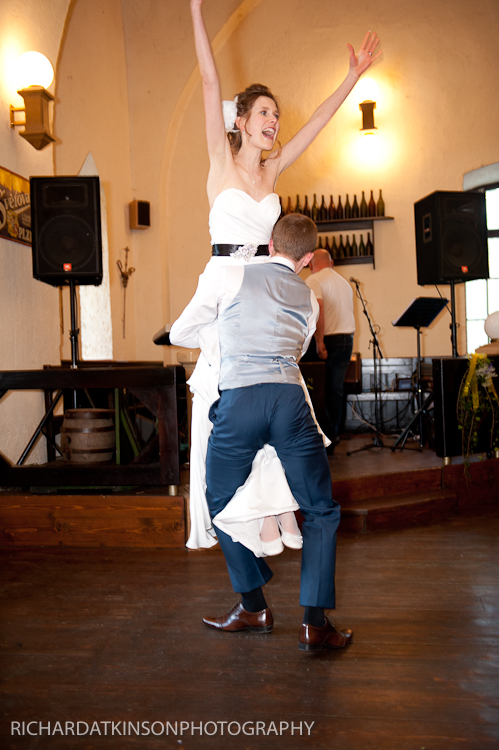 Due to popular demand  I am starting a adult street dance class in a couple of weeks based in Banbury.
Queensway School, Queensway, Banbury.
Tuesdays 7.30pm £4 per person. Starting April 16th 2013.
Just show up on the day – no need to book.
Hope to see some of you there!
Kerry x
Special Spring Offer:- 15 % discount on your first wedding dance lesson or private ballroom lesson for Banbury based couples!
Book before the end of March to receive this great discount!
Call on 07966 171702 or email us on info@takethefloor.co.uk to chat about our dance lessons.
We will extend this offer also to couples who will come to Banbury for the lessons.
Get our facebook page up to 500 likes!
1 week after reaching 500 likes we will pick 1 'liker' at random for a free dance lesson worth up to £100! www.facebook.com/Taketheflooruk.
Whether it is for your wedding first dance, special occasion or just to learn some steps for fun. We will travel for this free lesson up to 30 miles from Banbury so spread the word!!
Please share with your friends but don't just like this post – click on the link and like the page!
www.facebook.com/Taketheflooruk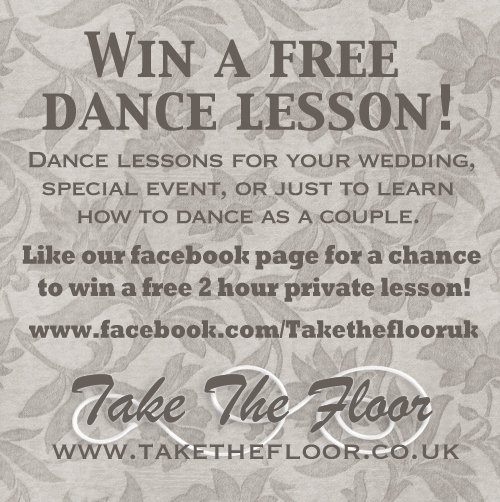 Just thought I'd let you all know that our sister company Come To My Party is now offering balloon modelling at weddings! A 2 hour walkabout service starts from £150 and will keep both adults and children entertained throughout the evening as well as provide some fun decore like our bride and groom shown here!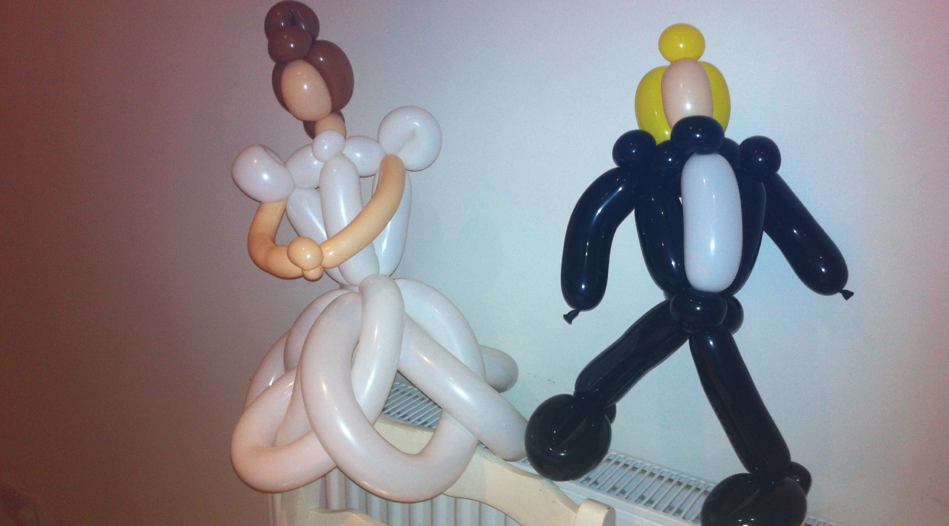 So how do you encourage everyone to join you on the dance floor after your first dance is over?
There are a few ways to get your guests up and dancing. If your first dance ends half way through a song it is often a good idea to pre-warn your bridesmaids and ushers or good friends that after you have finished your dance you will ask them to join you. Find a final position to signify  the end of your dance and (after hopefully getting a round of applause) ask your pre-warned friends to join you. You don't have to tell your friends you are having lessons, or have even worked something out, just that you will do so much and then enjoy having everyone join in.
A great way to keep people of the floor after your dance is to have your first dance song seg very quickly into something up-beat that everyone knows. Ideas such as 'Brown Eyed Girl', 'Daydream Believer', 'Build me up Buttercup' or 'You're The First, My Last, My Everything' work great!
Another method of getting reluctant guests up and dancing is games. I will post a few games and how to play them in a later post, but something that can involve a lot of your guests and get the floor utilised is a great idea – it makes the floor a lot more approachable for those who secretly want to dance but don't want to be the first!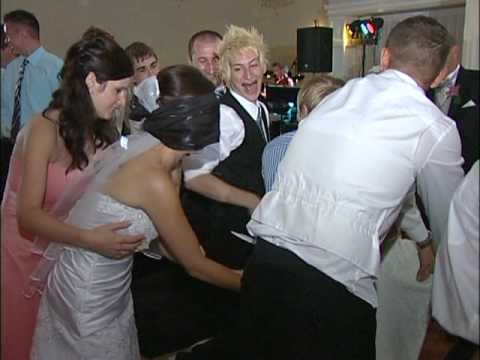 If you have children at your wedding then balloons and flashing lights are a sure way to get them up – the grown ups will follow!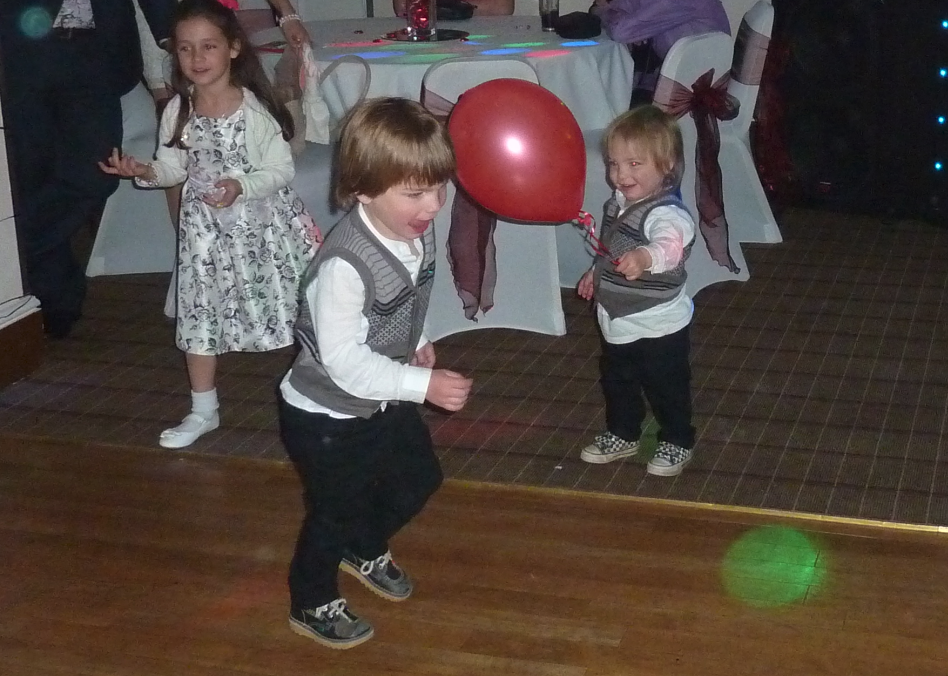 And if all else fails, I love the less than subtle approach here……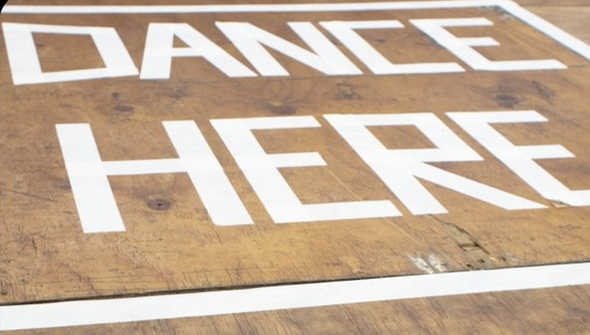 Here are my top 10 tips to make your wedding first dance really special for both you and your guests!
1). Learn at least 1 good step. A basic waltz style box step (tips here) or a basic cha cha, or even something very simple that you can repeat is a great way to look as if you really know how to dance together. If you at least work out a simple move where you can move in unison and repeat throughout the song you will look like you know what you are doing!
2). Practice!!! This shouldn't be a chore, it should be a really fun way for you and your partner to spend some quality time together in the lead up to the wedding. So much of wedding preparation is done separately – such as the dress for example – and the last few weeks can get so manic, it is great to have an excuse to put on some music, hold each other close and have a dance! Why not get a bottle of wine in to get you relaxed and in the mood, and just enjoy yourselves! You will feel a lot less inhibited on the day if you are used to whizzing around the living-room!
3). Work out an ending. This can range from a 'ta-da' position to a lift if you're feeling confident, to something as basic as a big kiss. It will signify the end of your routine and suggest your guests join you for the rest of the song or for the next song.
4). It is nice to give the routine a formal start too. I often like to start with the man offering his hand as an invitation to dance. Don't be too sudden to take it too girls – give it a moment's pause to consider his offer!!
5). Think about your song well. It will be something that you will always remember, and you will be hearing it a lot if indeed you do practice, so make sure you both like it! It is perfect if you have a special song, but if you don't then try and think about what sort of tempo and style suits you both. Slow songs are lovely but very slow songs can often be tricky if you aren't used to keeping in time with the music.  More up tempo but still romantic numbers can be a great alternative. See our post here for deciding on a song, or our songs page here for more ideas.
If you still can't decide then why not mix some songs together! How about a slow song leading to something a little more up-tempo, or even a big mega-mix! We can mix the tracks for you if you like. See our Extras Page for more info.
6). Do a bit of research. There are thousands of wedding dance clips on YouTube from classic to outrageous! Take the ideas you like and see what you can realistically achieve.
7). If you plan on using live music for your first dance make sure the band are aware that you have had lessons and / or a routine planned. If you are rehearsing to a track then make sure the band will be following the exact version you are practicing to. Even if is their own demo! I have had one couple who we diligently rehearsed to the demo from the band's own website, only for them to play it half the speed and with extended solos! They made a remarkable success despite the difference but it did certainly take them by surprise!
Similarly if you are using a DJ make sure he / she is aware that you have something worked out and knows whether you intend to walk onto the floor as the music starts or begin in the centre of the floor. Also make sure you have more than one copy of the CD if you have a special song and that it will play OK on the DJ's equipment. Or indeed whether they prefer an mp3 sent in advance.
8). The other people to let on on the act that you have been practicing are the photographer and videographer. Especially if there are some special moves you want captured! Think about where they are best to stand too to capture the perfect shots.
9). Make sure you are both confident if you attempt a lift. Lifts can look spectacular and can really impress, but not if it ends up with both of you on your bottoms and a slipped disc! Don't be put off if you do want to try,  but it is certainly wise to get professional teaching to make sure you are doing things correctly and safely.
10). Get a lesson or two! It doesn't have to be a big commitment. Many of our couples have just one session with fantastic results! Lessons are in your home or suitable location and I promise that it will be lots of fun!
And my final point if all else fails ……..
ENJOY YOURSELVES!!! If you feel great you will look great! If you feel embarrassed it will show and your guests will feel embarrassed for you, however if you smile and have fun will make you both look fantastic and everyone will love watching. Your guests think you are both wonderful and really want to see you enjoying yourselves and sharing your love for each other. Make this is a moment to cherish and a truly special part of your big day!
We will be at Hawkell House Wedding Fair in Oxfordthis Sunday 23rd October!! Do come along to have a chat with us and find out more about wedding dance lessons, and also to see this great venue and other local suppliers.
A recent Take The Floor couple Richard and Lucy Knill (nee Webster) are featured in the 2012 – 2013 issue of Cotswold Bride Magazine and their first dance is a feature of the article!
Richard quoted in the magazine
Another highlight was the first dance. I'm not normally a big fan of dancing in public and had visions of us shuffling around awkwardly for 30 seconds before being 'rescued' by some enthusiastic friends. However, Lucy and I had some secret dance lessons in the weeks before the big day. After just three hours with Kerry from Take the Floor, we performed a full four-minute, choreographed performance, much to the surprise and delight of all our friends and family.
Lucy and Richard chose Better by Tom Baxter as their first dance song and despite a couple of dress restrictions they danced fantastically!
They were really fun to work with and a really lovely couple.